Renewable energy: What's in it for farmers?
2019 NSW/ACT AgriFutures Rural Women's Award Finalist, Karin Stark shares her experience in the renewable energy space and the opportunities these technologies can provide farmers.
A plethora of renewable energy technologies vies for on-farm investment in Australia. But among farmers, a lack of awareness in available options, their potential application, and even trust in suppliers creates considerable barriers to on-farm uptake.
Seeing the opportunity for farmers to share stories, not just with one another but with those working in the space, I convened the inaugural National Renewables in Agriculture Conference in 2019 in Wagga Wagga. This formed part of my AgriFutures Rural Women's Award project. The Conference attracted 250 attendees in its first year with the second Conference in 2021, drawing 350 attendees – an impressive increase in times of COVID-19. Topics at the conference ranged from electric utes, bioenergy at a piggery, solar irrigation, hydrogen and battery storage potential in agriculture, to hosting large scale renewable energy farms, and the benefits this can have for landholders and communities alike.
Our mixed cotton and wheat farm near Narromine hosts a hybrid 500kW solar-diesel irrigation system, which is helping reduce our diesel costs by 45%. The 1,550 panels take up one hectare of land. Large scale solar and wind farms will play a big part of the Central-West Orana's Renewable Energy Zone (REZ), the country's first planned modern day power plant – just a stone's throw from our backyard.
Over the past several months, through my role at RE-Alliance (formerly the Australian Wind Alliance), I've been meeting with other farmers and community members to learn about what opportunities they want to see come out of REZs.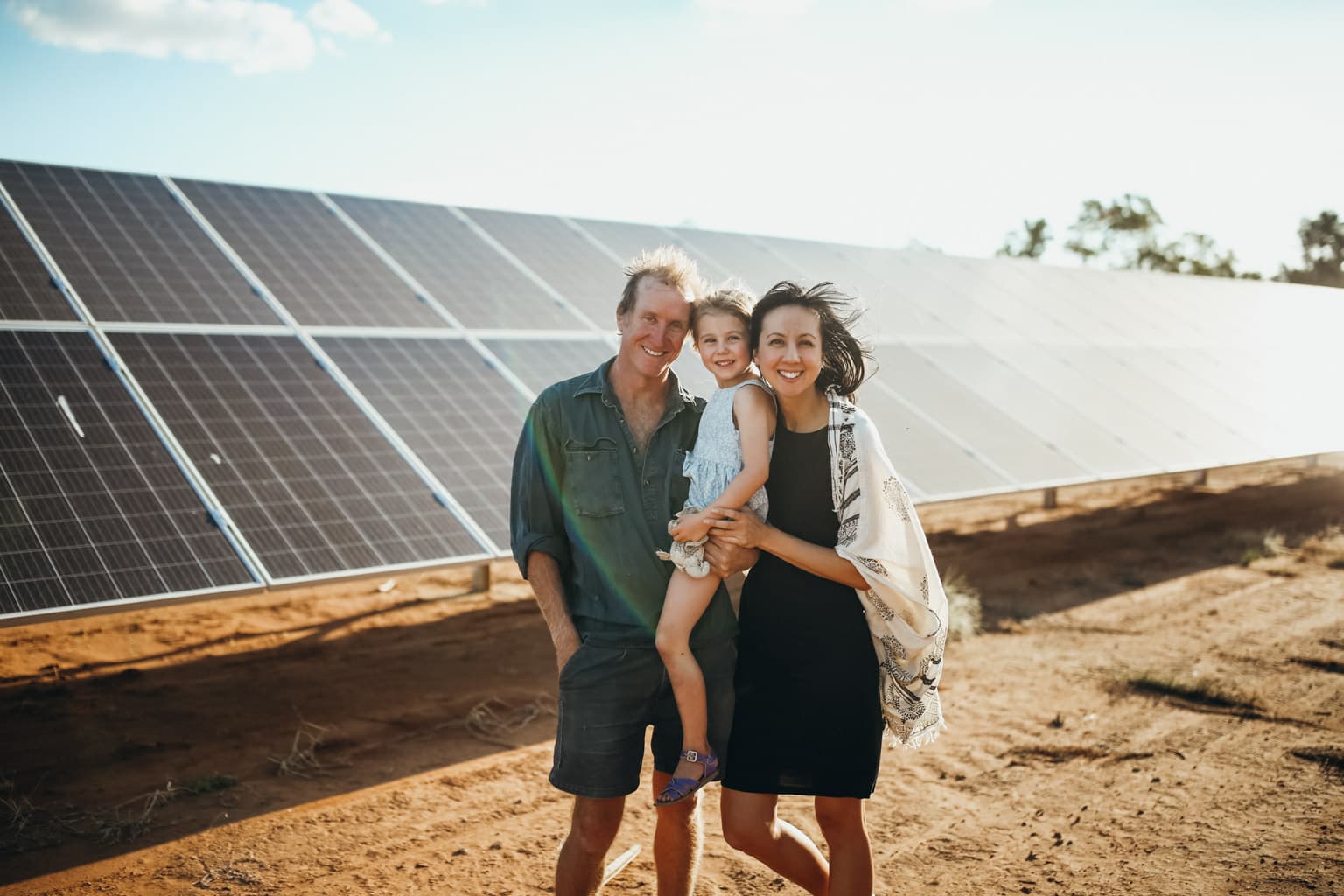 If REZs are done right, the opportunities to value-add to agriculture and to contribute to regional renewal are almost endless. The growing field of agrivolatics – co-locating and co-producing solar energy alongside agriculture is generating innovative practices across the globe, supporting farmers in saving money and reducing emissions. A great example is Tom Warren, a Dubbo farmer successfully grazing his merino sheep between solar panels. He believes the addition of panels to the paddock has increased the 'net-benefit and productivity' of the land.
RELATED: Stock-proof solar design set to optimise agricultural productivity
Farmers who lease part of their land to host wind or solar farms have described it as "drought-proofing" their farms, for now and for their children's future. We've just been through yet another drought and the worsening climate crisis will undoubtedly see more on the way. Farming in Australia is already a tough industry to be in, and in times of drought all we can do is try to ride it out without going bust. Annual lease payments for hosting wind turbines or solar on your farm can make or break for some farmers. But it's also important that neighbours of host landholders, are included in early conversations with developers and are included in benefit sharing from opportunities that may come out of having farmers who host solar and wind in the region. I've often thought that, in consultation with developers, benefits could be offered such as a rural rubbish collection or improvements to telecommunication in the bush.
RELATED: Soil carbon markets: the risks, rewards, costs and complications
I also run my own business, Farm Renewables Consulting which aims to create change through sharing stories, connecting people and facilitating opportunities for increasing cheaper, low emission technologies in agriculture. This is an exciting space to be working in, with so many opportunities that are yet to be realised. I for one, can't wait to see how farmers may be able to produce their own green hydrogen and even create their own ammonia and urea for use directly on the farm.
With the global trend to de-carbonise and import low carbon products, reducing emissions through the use of on-farm renewables will ensure Australian agriculture maintains its competitive edge, given 70% of our agricultural products are exported.
---
Enjoyed this story? Want to learn more about the Asia Pacific region's innovative agrifood tech ecosystem? Sign up for our newsletter here and receive fresh stories about global leaders, farmers, startups and innovators driving collaborative change.