Seeds for change: How we can farm Australia's deserts
Growing tomatoes in the desert using nothing but sunlight and seawater is a quantum leap forward for agtech innovation. So how can we scale this technology and find remote labour to help power Australia's low-carbon food system?
Imagine farming vegetables all year-round in Australia's harshest desert landscapes. This futuristic concept is taking root in South Australia's Port Augusta.
Halfway through a 10-year contract to supply Coles Australia with 15,000 tonnes of truss tomatoes per year, the ground-breaking Sundrop Farms project has learned some valuable lessons about sustainable food production in a desert climate.
While its 20 hectares of greenhouses use world-first Dutch and Danish technology that combines sea and sunlight to produce electricity, freshwater and heating, it's the age-old challenges of finding the right staff and dealing with climatic extremes since full production began in 2016.
The solar tower of Sundrop Farms rises high out of the barren semi-arid plains at Port Augusta, a mining and transport hub connecting Perth, Darwin and Adelaide on the shores of Spencer Gulf in South Australia.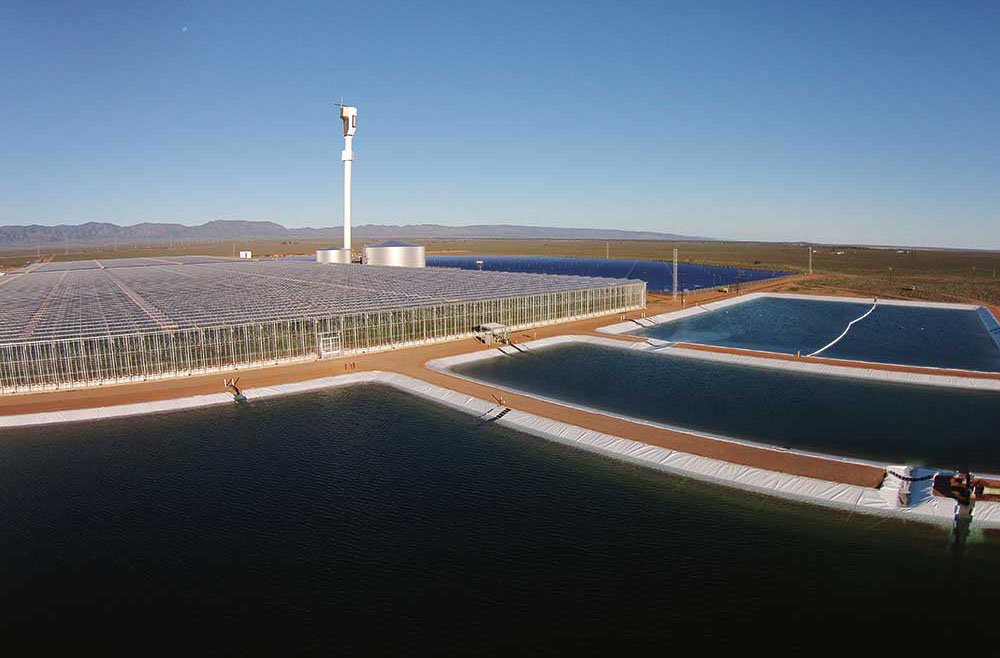 Andrew Lynch, chief financial officer of Sundrop Farms said the desert landscape with an annual rainfall of less than 250mm means there's no horticulture nearby, but the harsh surrounds are what made Port Augusta the perfect site for the farm.
"For this project we needed large amounts of sunlight and access to seawater without high levels of humidity, and Port Augusta has those primary inputs in abundance, along with access to the Spencer Gulf so we could desalinate seawater," Andrew Lynch said.
"But the lack of a horticultural industry to provide skilled workers, and the extreme heat that comes with the climate have been challenges for us."
How concentrated solar power technology will help feed the world
Sundrop Farms operates a hydroponic system without soil using seawater pumped from an inlet of the Spencer Gulf, five kilometres away, that is desalinated using concentrated solar power.
A 127-metre solar tower with a receiver on top absorbs the sunlight reflected from a 12.5ha field of 24,000 motorised mirrors, each two square metres in size, that track the sun as it moves across the sky.
Sitting within the solar tower is a steam boiler that heats the seawater to manage the climatic conditions in the greenhouses. Steam also powers a steam generator to produce electricity for the site, while excess heat is used to desalinate seawater to irrigate the crops.
RELATED: Huon Aquaculture leads the way in low carbon seafood production
Strings of truss tomatoes are rooted in hydroponic pipes and take 10 weeks to reach maturity with negligible pests and disease in the ideal growing climate of four glasshouses, each covering five hectares.
"One of our key benefits is the counter-cyclical production that's different to traditional agriculture where you optimise your yield for the year," Andrew said.
"The Sundrop system allows us to grow tomatoes all through the winter months when traditional output is low, and we're currently producing 25-30 per cent of Australia's truss tomatoes."
While evaporative cooling using seawater can bring the temperature in the greenhouses down as low as 10 degrees, the 2019-2020 summer proved to be a challenge.
RELATED: How agtech can help reduce climate risk and boost carbon markets 
"From December to February we had periods that were averaging 45oC during the day and overnight temperatures were still hovering in the high 20s, low 30s. Even with our best technology, 30 degrees is still a bit warm for tomato production," he said.
"But we had all the tools – it was a case of using the cooling system to its best effect, which doesn't necessarily mean full throttle, and understanding the humidity levels and how the flow of air is circulating so that we don't get dead spots in the greenhouse.
"Luckily the extreme heat is only for a short time. During winter and coming into Spring the light levels are fantastic and the weather is low to mid-20s, which is pretty ideal."
COVID-19 and the challenges of securing horticultural labour
Finding experienced horticulture workers in what is a key mining area has also taken several seasons to perfect.
Sundrop Farms employs up to 250 staff at the peak of summer, a combination of locals coming from Port Augusta or the mining towns of Whyalla and Port Pirie, a 40-minute drive away, and workers who fly in from East Timor and Vanuatu under Australia's Seasonal Worker Program.
The advent of the COVID-19 pandemic has put labour shortage on the radar, said Andrew, but it's not a concern yet.
"Fortunately the Federal Government has extended the visas for our seasonal workers who can't go home and will be here longer than originally anticipated, because we rely on the Seasonal Workers Program quite heavily to top up our labour force in peak times," he said.
RELATED: Young kiwifruit farmer seeks to remedy rural labour challenges
"We've seen positive signs from the Northern Territory allowing workers in for the mango picking season and South Australia is permitting overseas students into the state, so there's no reason they can't allow more workers in for food production. It's too important."
With employees on site required to adhere to hygiene and distancing protocols, the trucks are still rolling out of Sundrop Farms transporting tomatoes to supermarkets across the country.
So could this system be successfully adapted to other parts of Australia where conditions are equally as dry and barren? Sundrop Farms cost $200 million to build, and last year the tomato business was bought by global infrastructure investment company, Morrison & Co, for an undisclosed sum.
The company has a total portfolio of $US10 billion in assets, ranging from other renewable energy projects to data infrastructure, and says it brings 'capital and confidence' to Sundrop, rather than any change in operations.
Andrew said while the technology is certainly replicable, the two primary inputs of large amounts of light and access to seawater must be combined with the third and most challenging input – the people.
"If you look at a map of Australia and consider the available sunlight, lack of humidity and access to the ocean, then northwest WA has the right conditions. But that part of the country is extremely remote, which makes it very challenging if you're going to supply produce into major markets," he said.
"Port Augusta hits that happy medium of meeting all the main requirements."
---
Enjoyed this story? Want to learn more about the Asia Pacific region's innovative agrifood tech ecosystem? Sign up for our newsletter here and receive fresh stories about global leaders, farmers, startups and innovators driving collaborative change.